Determine Version of Xbox
There are currently 8 versions of Xbox on the market today(17/10/2005). These are referred to as 1.0, 1.1, 1.2, 1.3, 1.4, 1.5, 1.6a, 1.6b
•All ORIGINAL XBOX DVD drives work in all consoles regardless of version.
•Only 1.0 versions have or need USB daughter boards.
•1.0-1.1 power supplies are compatible with 1.0-1.1 motherboards.
•1.2-1.5 power supplies are compatible with 1.2-1.5 motherboards.
•1.6a/b power supplies are only compatible with 1.6a/b motherboards (see third photo for visible differences)
•note: 1.0/1.1 to 1.2-1.5 Power supply conversion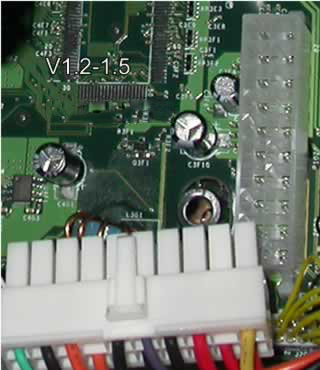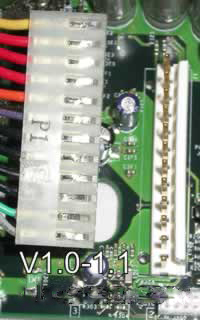 That is as much as you can figure out from looking at the power supply. For further breakdown look to the following visible motherboard differences.
1.0 has a fan on one of the heatsinks attached to the motherboard, it is also the only one with a USB daughterboard.
1.1 is identical to its predecessor but sports a passive heatsink and the controller ports no longer need a daughterboard.
1.2-1.5 have an ATX connector and can be further distinguished by the video encoder that was used
(located at back of board near video connector).
1.2-1.3 Connexant Video Encoder (LPC header 1.3-1.5 were missing L-frame, one of the signals the cheapmod and other chips used)
1.4-1.5 Focus Video Encoder 1.5 had additional rebuild points missing in the LPC header, if no continuity from pin 2 and ground it is a 1.5
1.6a/b Xcalibur Video Encoder
1.6A has Samsung RAM
1.6B has Hynix RAM
If you want to figure out the version of a console in an unopened box check out the info at SourceForge.net
http://xbox-linux.sourceforge.net/docs/versionsfinding.html
If you have your xbox and have it open, you cannot beat this walk through "choose your own adventure" style page at
http://www.xbox-scene.com/versions_1.php
Admin




Posts

: 74


Reputation

: 0


Join date

: 2016-03-12


Location

: London




---
Permissions in this forum:
You
cannot
reply to topics in this forum