FlashBIOS v3.03 Tutorial (Rev 1.00)

This tutorial takes you on a step by step journey through each and every process to ensure that you are able to update your bios successfully. We will teach you how to flash via HTTP, Hard Drive & Disc, how to burn a FlashBIOS compliant CD and also DVD using Nero, how to make a dummy file,  and finally show you the best troubleshooting techniques.
The document is a little long but trust us when we say its quite easy so do not be daunted by the amount of information. We hope that beginners and experienced users alike will find this tutorial useful. Note to webmasters: We do not watermark our images as everyone should benefit without having to splash crap all over the picture, however if you do use this page we would be grateful if you included a link and credit to ourselves - thanks.
This tutorial will be tackled in the following order:
1. Flash Via HTTP
2. Flash Via Hard Drive
3. Flash Via Disc
4. How To Create a Dummy File for a FlashBIOS Compliant CD or DVD
5. How To Create a FlashBIOS Compliant CD
6. How To Create a FlashBIOS Compliant DVD
You should be aware of the following points.
a. You can update your bios via HTTP / Hard Drive OR Disc (All optional)
b. FlashBIOS will work on both Xecuter 2.6 and Xecuter 3 Modchips
c. If you cannot navigate the FlashBIOS menu - have only one controller plugged in, unplug any DVD dongles or memory cards, try to
    use an original MS controller.
d. FlashBIOS v3.03 may not work on v1.6 in some cases (works great on v1.6b) - at time of press this is being investigated and we
    recommend you use v3.01 for v1.6 - this tutorial is exactly the same for that version.
e. FlashBIOS is a utility to update your modchip with any other bios. You cannot play games or run unsigned software with this bios. If
    you want to run unsigned software you must download a hacked bios like X3 Bios, X2 Bios or Evox Bios. These are illegal and we do
    not provide direct links. Read this page for info where to find hacked bios's  
Xbins guide
f. Make sure you know what you are doing when unlocking your hard drive. If you drive is unlocked you will NOT be able to boot to the
   MS dashboard. You will get a service screen with an error code - so BE CAREFUL.
Now if you look at the pictures below this is how FlashBIOS boots up if you have installed your mod successfully - we also show what happens if you have messed things up. If you get FRAG (Flashing Red And Green lights) on your Xbox then you have a bad solder joint on the LPC - check everything again (this shows your D0 point is correct as it is switching the Xbox to the LPC bus successfully - however by getting FRAG its showing that the LPC bus cannot read the bios from the mod). If you get a black video screen then you most probably have a new v1.6b Xbox (check to see if the system RAM is made by Hynix) and you have an older version of FlashBIOS. You will need to send it back to your installer to get it updated to FlashBIOS v3.03 or see if you can get a friend to do it for you. Remember FRAG = Faulty Install, Black Screen = New Xbox/Old Bios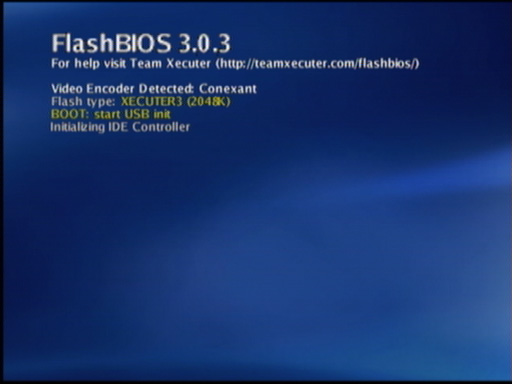 First screen that appears. In this example you can see the Xbox has a Conexant
Video encoder and has detected the X3 successfully and does not have its flash
protection enabled - all so far so good.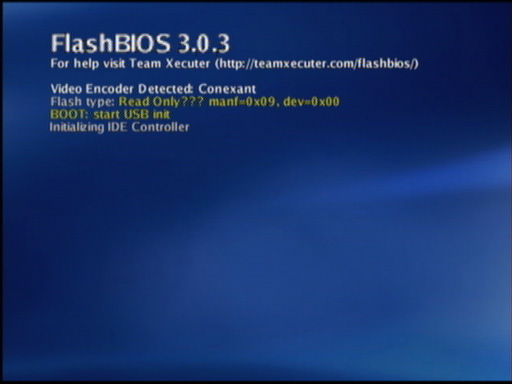 This is what happens if your X3 has its flash protection enabled. You wont
be able to update anything at this stage. You need to make sure the flash
protection is set to off on the mod and on the switch if you have it connected.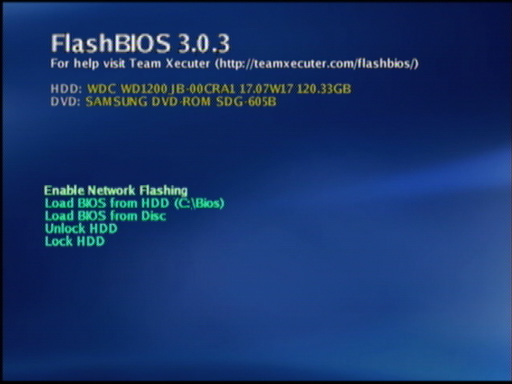 This is how everything should look when all is correct. However we are going
to show you what you may see if things are not quite right - and how to fix.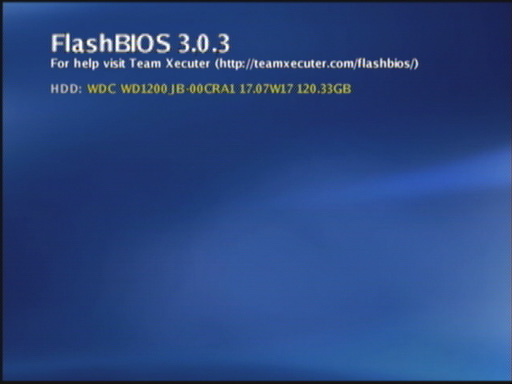 If your screen freezes at this stage simply reset your Xbox and try again.
This error usually happens when there is a disc in the drive and the eject button
was pressed while the IDE was initializing. Simply reset your Xbox and try again.
No DVD Rom Connected / Detected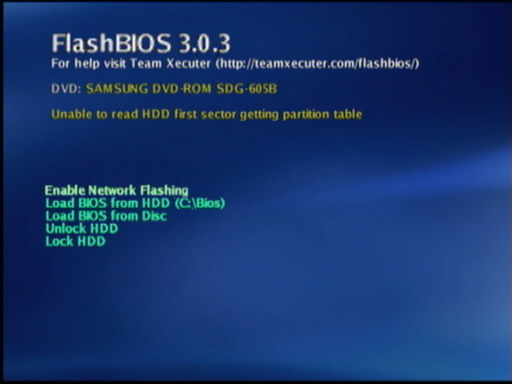 No Hard Drive Connected / Detected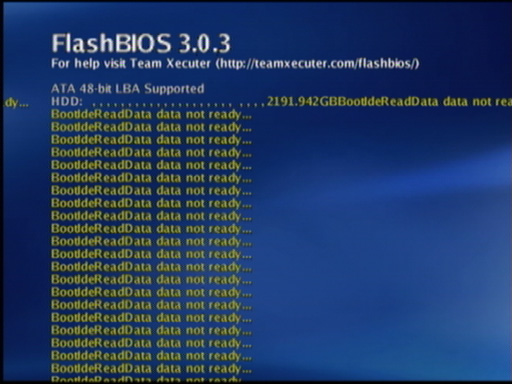 No DVD Rom & No Hard Drive Connected / Detected
Admin




Posts

: 74


Reputation

: 0


Join date

: 2016-03-12


Location

: London




---
Permissions in this forum:
You
cannot
reply to topics in this forum